Propaganda: 100 Years of Czechoslovakia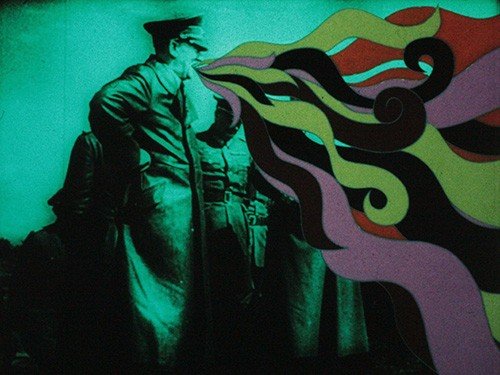 Important Figures of Our Life / Významné osobnosti našeho života
director neznámy autor / author unknown
An educational film by an unknown author and patriot. Ten years after the republic was established, strong admiration towards key figures of the era remains present in the film. Their drawn portraits are characteristically transformed.
An Idea Searching For Light / Myšlenka hledající světlo
director Karel Dodal, Irena Dodalová
A black-and-white abstract film warning about a global catastrophe expressed through light reflections and shades. This was the last work Mr and Mrs Dodal created together – their paths subsequently parted due to Nazism.
A Song About a Harmonica / Píseň o harmonice
director Jiří Brdečka
Chronologically, the film A Song About a Harmonica should be introduced later in our programme, but its topic dictates otherwise: during the last days of Prague's liberation, a German bullet kills a Soviet soldier.
Springman and the SS / Pérák a SS
director Jiří Trnka, Jiří Brdečka
A comedy which over time has turned into a classic. The Bratři v triku studio collective found a way to confront the hated occupiers. One of our few superheroes fearlessly faces the Nazis while jumping on springs.
Work Brigade / Brigáda
director Zdeněk Miler, Eduard Hofman
One of the films that probably best shows the true constructive zeal of that period. Miler's elaborated visual adaptation naturally unites socialistic realism and fairy tales.
Eye / Oko
director Juraj Bindzár
An experimental film about the tragedy of human malice and angry society which by unfortunate coincidence was completed in 1968. The only animated film created in Slovakia that was banned.
A Song / Pieseň
director Jaroslava Havettová, Ivan Popovič
Our country's very first music video – created in Slovakia to a song by Waldemar Matuška and Helena Vondráčková. The video was made by Czechoslovak duo Havettová and Popovič whose inspiration included the famous Yellow Submarine film.
Chess / Šach
director Viktor Kubal
A chess board-based comedy. The film is an allegory of an unfree society where each step is predetermined by strict rules, which "kings and queens" do not let us break.
Queues / Zástupy
director Helena Slavíková-Rabarová
During socialism, you had to wait everywhere for everything. But a few ingenious people always found a short cut. The film clearly differs from the rest of the author's output in its critical attitude towards the "economy of shortage".
The Last Stone / Posledný kameň
director Július Hučko, Jaroslava Havettová
How does an artist cope with official requests to constantly rework his art? The film represents a conflict between ideologically-free artistic intention and the ideological burden imposed on artistic creation.
Idol / Idol
director Viktor Kubal
In Idol, Viktor Kubal confronted the socialistic regime in a particular and direct way. A comedy about the restrictive regime with a happy end shows an obedient individual who keeps bowing to busts of famous figures, until his patience finally snaps.
No Comment / No Comment
director Pavel Koutský
In the '90s, Pavel Koutský created unique short reflections on contemporary problems and issues for Czech Television. In just seconds, he captured complex problems and added a humourous punchline.