This year we are here for you both online and live. If you don't know which version of Fest Anče 2021 is the right one for you, read more about the two versions and their programme for this year.
FEST ANČA 2021 ONLINE
Tickets for Fest Anča ONLINE can be purchased (and films watched) directly through online.festanca.sk at three price levels:
Online Festival Pass: EUR 20 – watch the entire festival (2000 minutes of content) with the option to replay each programme once
Online Single Ticket: EUR 3 – watch one whole section or a feature film with the option to replay each programme once
Online children's programme: EUR 6 – four screenings: International Children's Competition, World Panorama for Children 1 and 2, and CEEAFN: The Wandering Kite. Watch the entire children's programme for 72 hours without restrictions.
*Fest Anča ONLINE is available from 1 to 11 July 2021. Tickets can be purchased at any time. You can watch all supporting events (concerts, discussions, DJ sets) for free on social media. Slovak TV Bedtime Stories sections are excluded from the festival's programme, as these are only screened live in Žilina.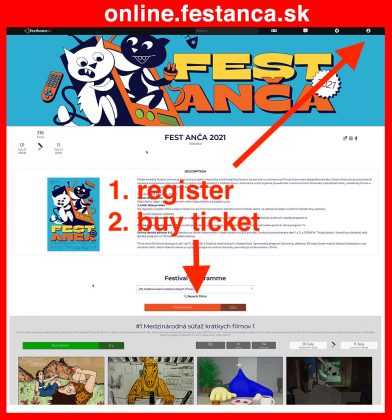 FEST ANČA 2021 LIVE
For Fest Anča Live (1 – 4 July 2021, Žilina) this year, only single tickets can be bought on the spot. Pre-sale is not open.
Single ticket: EUR 3 – watch one screening or any other event subject to charge until 8 PM.
Single child's ticket (up to 12 years old): EUR 0 
Adult companion:  EUR 1 
Single evening ticket: EUR 10 – valid after 8 PM – enter all evening events on the day of purchase
2021 LIMITED EDITION TICKETS 
If you bought a Limited Edition Fest Anča 2021 ticket, you have three options because of the festival's online format this year:
Use your 2021 Limited Edition ticket as an online pass this year.

Watch all online content. The ticket is valid for two people (just like the original physical Limited Edition ticket).

Don't want to use your 2021 Limited Edition ticket for this year's online festival?

Then use it next year instead

for you and your plus one to physical Fest Anča 2022 entry.

Neither option floats your boat?

Then request a refund of your entry fee.
If you want to use your Limited Edition ticket to access Fest Anča 2021 ONLINE, or use it next year, email akreditacie@festanca.sk. If you want a refund, email infoakreditacie@festanca.sk.@inviton.eu with the subject line "FEST ANČA 2021".