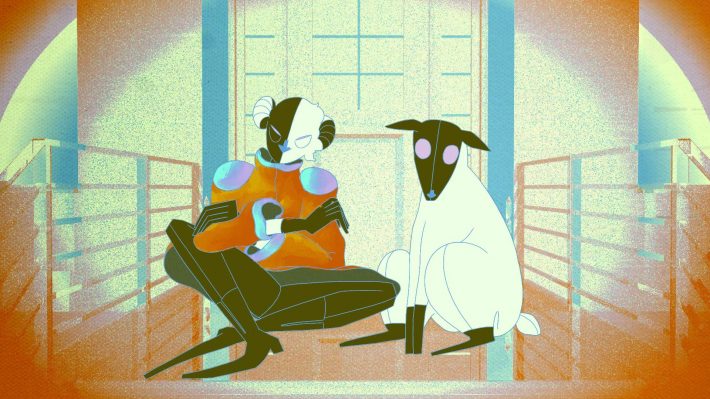 Fest Anča International Animation Festival 2020's official selection embraces diversity, offers films from renowned animators well-known to Fest Anča's devoted fans, as well as up-and-coming creatives, large Slovak film sections, and the very latest animation trends.
The official selection of Fest Anča's 13th edition covers all the bases: leading industry figures, contributions from previous guests (Vera Neubauer, Peter Millard, Max Hattler, and Michael Frei, for instance), and award-winners such as Julia Ocker, Lena von Döhren, and Milos Tomić.
The festival received a record-breaking number of entries, with an incredible 1650 films from 65 countries. Of these, almost 300 qualified for the official selection – giving festival goers a fantastic opportunity to watch them all in twelve competitive and non-competitive sections.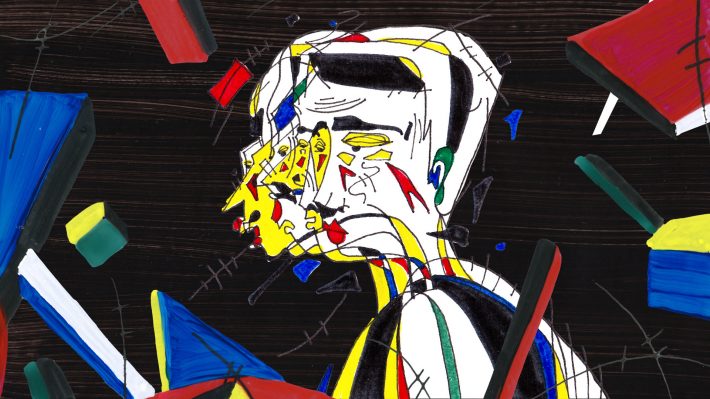 We're pleased that our  previous guests and award winners continue to cherish the festival by sending us their submissions," said Ivana Sujová, director and member of the Fest Anča pre-selection committee. "This year's programme is very high on quality, with the competitive sections leading from the front."
"It's great to see such diversity in the selection, with the majority of films mirroring the latest animation trends. Programme range and uniqueness are integral parts of Fest Anča, and we also aim to create screen-time for lesser-known films and animators. This is clearly proven by our selection that combines tradition with innovation, while also considering technical aspects and animation styles," added Ivana. This year a new, special non-competitive section will be showcased: Short Animated Documentary.
The screenings and awards at prestigious international festivals enjoyed by many of this year's entries are testament to their high quality. Daria Kashcheeva's Dcera (Daughter) was presented at Annecy, awarded at Sundance, and nominated for an Oscar. Michaela Mihály and David Štumpf's SH_T HAPPENS was screened at the Sundance and Venice film festivals.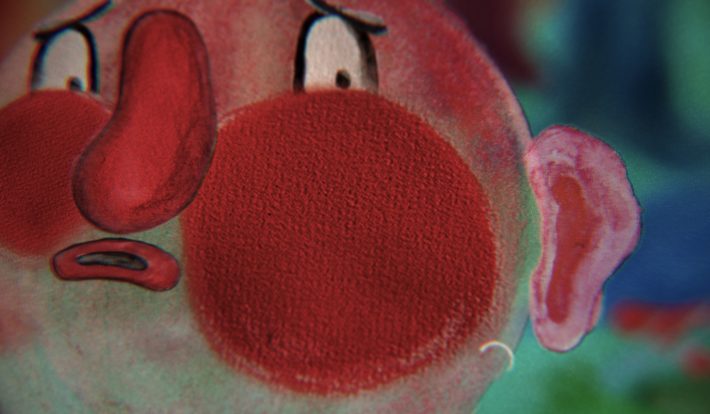 Slovak films are strongly represented at this year's Fest Anča, and short local films will appear in the competitive section and non-competitive Slovak Panorama. "Slovak animated films' increasing exploration of themes and genres is good to see, such as in music videos and production for children," added Ivana. Slovak films are represented in the main competitive section, Anča Award, by SH_T HAPPENS, and in the Anča Music Video Award with a video by the 2019 award-winner – Marián Vredík.
Don't miss the opportunity to discover the best contemporary animation from 27 to 30 August 2020 in Žilina. Limited early bird festival passes are still available on Fest Anča's website.
Competitive sections
Films competing for Anča Award + Anča Student Award

SH_T HAPPENS (s)
Michaela Mihalyi, David Štumpf
CZE
Zorg II (s)
Auden Lincoln-Vogel
EST
CASTLE
Ryotaro Miyajima
JPN
Winter in the Rainforest
Anu-Laura Tuttelberg
EST
The Little Soul (s)
Barbara Rupik
POL
Freeze frame
Soetkin Verstegen
BEL
Edokko Bar Training
Mikio Saito
JPN
WOOD CHILD & HIDDEN FOREST MOTHER
Stephen Irwin
GBR
Why Slugs Have No Legs
Aline Höchli
CHE
HEDGE (s)
Amanda Bonaiuto
USA
Average Happiness
Maja Gehrig
CHE
Parasite (s)
Yajun Shi
USA
What I saw on holiday: Budapest 2017 (s)
Matouš Valchář
CZE
Portrait Of Suzanne
Izabela Plucinska
POL
Egg
Martina Scarpelli
FRA
Trauma Chameleon
Gina Kamentsky
USA
ÄLGEN (s)
Erik Svetoft
SWE
Serial Parallels
Max Hattler
HKG
Cosmonaut
Kaspar Jancis
EST
Any Instant Whatever (s)
Michelle Brand
GBR
My Galactic Twin Galaction
Sasha Svirsky
RUS
Temptation
Ivan Arkhipov
RUS
Pile (s)
Toby Auberg
GBR
Un diable dans la poche (s)
Antoine Bonnet & Mathilde Loubes
FRA
Room with a Sea View (s)
Leonid Shmelkov
EST
mekakure
Akifumi Nonaka
JPN
Traces
Sophie Tavert Macian, Hugo Frassetto
FRA
Tom has a plant (s)
Thinh Nguyen
DNK
I'm going out for cigarettes
Osman Cerfon
FRA
This is pig meat
Peter Millard
GBR
My Exercise
Atsushi Wada
JPN
There Were Four of Us (s)
Cassie Shao
USA
Yes-People
Gísli Darri Halldórsson
ISL
KIDS
Michael Frei
CHE
Untitled (Starry Bodies) (s)
Ryan Benjamin Lee
SGP

*s = student film

Video Clips competing for Anča Music Video Award

ANNIHILATION SONG
Amanda Bonaiuto
USA
amiinA-sign
Taro Otani
JPN
Ravines
Guillaume Pelletier-Auger
CAN
BLOW TO THE HEAD
Caleb Wood
USA
Juana Molina – Paraguaya Punk
Dante Zaballa
ARG
Lovesunk
Natalia Bykova
RUS
Takoyaki Story
Sawako Kabuki
JPN
There's That Grin
Mykyta Lyskov
UKR
Itchy Teeth – Invisible King
Julia Specht
DE
The Closing Door
Lucija Mrzljak
EST
Gelbart – March of the Thinking Machines
Adi Gelbart
DE
Maggie Dave – I'm Not Ready
Cassie Shao
USA
clube de esquiar ~ Pudesse eu (could I)
Marián Vredík, Jana Vredík Hirnerová
SVK
SCAPPARE
Miloš Tomić
SRB
The Happy Song
Trevor Hardy
GBR
Etude for Cellular Automata no. 2
Guillaume Pelletier-Auger
CAN
Serph-Citrus
Taro Otani
JPN
No Reason
Amanda Bonaiuto
USA
P/\ST: Tíseň
Alžběta Suchanová, Nora Štrbová
CZE
I give you my word
Veronika Neputina
RUS
Photons
Martyna Koleniec
POL
Motamo
Carl Roosens
BEL
I'M NOT FEELING VERY WELL
Sunčana Brkulj
HR
CHIYOONHAE "First Time"
Gyuri Cloe Lee
KOR
Tomorrow
Ezequiel Torres, Pablo Roldán
ARG
Lucky Chops – Traveler
Raman Djafari, Daniel Almagor
DE
Lullaby
Julian Gallese
JPN
ANGKLUNG LIFE
KOKOFREAKBEAN
USA

Films competing for Anča Kids' Award

The little Bird and the Bees
Lena von Döhren
CHE
Hannibal the Elephant
Aurélie Monteix
FRA
Overboard!
Filip Pošivač, Barbora Valecká
CZE
Heat Wave
Fokion Xenos
GR
Warm star
Anna Kuzina
RUS
Good Heart
Evgeniya Jirkova
RUS
A Lynx in the Town
Nina Bisiarina
FRA
Fly
Julia Ocker
DE
NEST
Sonja Rohleder
DE
Bearing
Daniela Hýbnerová
CZE

Films competing for Anča Slovak Award

Music Box
Joanna Kozuch
SVK
THE TOTS (episode ROCKET)
Vanda Raýmanová, Michal Struss
SVK
clube de esquiar ~ Pudesse eu (could I)
Marián Vredík, Jana Vredík Hirnerová
SVK
Wild Beasts
Marta Prokopová, Michal Blaško
CZE
Crossing
Agata Bolaňosová
SVK
Spiders
Lívia Suchá
SVK
KA-BOOM! – The Flood
Veronika Kocourková
SVK
Trust me
Zlata Golecová
SVK
Fruit Of The Days
Szilard Kardiak, Sebastian Kardiak
SVK
SH_T HAPPENS
Michaela Mihalyi, David Štumpf
CZE
Non-competitive sections
World Panorama

And then the bear
Agnès Patron
FRA
Tamou
Tom Prezman, Tzor Edery
ISR
The Surrogate
Stas Santimov
UKR
MUMMY'S CURSE RETURNS
Vera Neubauer
GBR
Arka
Natko Stipanicev
HR
Metamorphosis
Juan Fran Jacinto, Carla Pereira
FRA
Morning
Vojtěch Domlátil
CZE
One Pair Coat
Yi Luo
DE
Her Head
Emma Louhivuori
FIN
In Her Boots
Kathrin Steinbacher
AT
Rules of Play
Merlin Flügel
DE
Sheep, Wolf and a Cup of Tea…
Marion Lacourt
FRA
NESTOR
João Gonzalez
GBR
Toomas Beneath the Valley of the Wild Wolves
Chintis Lundgren
EST
Purpleboy
Alexandre Siqueira
PT
La Vieille Femme Qui Lave
Brian Hawkins
USA
Trespassers, Beyond the Veil
Pernille Kjaer
DNK
The Growth
Sarah Cheok Ling Fay
SGP
It's wet!
Alexis Godard, Nan Huang
FRA
These Things In My Head – Side A
Luke Bourne
GBR
XYU
Donato Sansone
FRA
Everything will fall out of place
Cheyenne Canaud-Wallays
FRA
Cante
Teresa Baroet
EST
Entropia
Flóra Anna Buda
HU
Grand Bassin
Héloïse Courtois, Chloé Plat, Victori Jalabert, Adèle Raigneau
FRA
My Son
Olga Synyshyn
POL
Tadpole
Jean-Claude Rozec
FRA
Dreams Into Drawing
Koji Yamamura
JPN
FOX BOY
Do-Yeon Tak
KOR
Pulsion
Pedro Casavecchia
ARG
Daughter
Daria Kashcheeva
CZE
Lursaguak. Scenes from life
Izibene Oñederra
ES

Slovak panorama

Medial Banana & Polemic – Old Times
Radovan Marček, Lenka Mišincová
SVK
Chestnut Boy
Agata Bolaňosová
SVK
B.O.P
Ladislav Jambor, Lukáš Ďurica
SVK
Forget Me Not
Adela Križovenská
CZE
The Little Red Headphones
Laura Lagová
SVK
Splotches
Andrea Gabajová
SVK
Jeff Has a Test
Miriama Trnavska
CZE
On The Beach
Samuel Chovan
SVK
Broken House – Septentrional
Petra Pastoreková
SVK
About a Tree
Michaela Masanova
CZE

World Panorama for Kids

KA-BOOM! – The Flood
Veronika Kocourková
SVK
Sous la glace
Luce Grosjean, Ismaïl Berrahma, Flore Dupont, Laurie Estampese, Quentin Nory, Hugo Potin
FRA
Flamingo
Bianca Just
DE
Sheep
Julia Ocker
DE
Blanket
Marina Moshkova
RUS
THE TOTS (episode ROCKET)
Vanda Raýmanová, Michal Struss
SVK
The concrete jungle
Marie Urbánková
CZE
Sam's Dream
Nolwenn Roberts
FRA
The world of Dalia
Javier Navarro
FRA
Petit Versailles
Adi Lavon
ISR
Sun-Kissed
Ignasi Tarruella
ES
Matilda
Irene Iborra, Eduard Puertas
FRA
Lucky Ticket
Svetlana Andrianova
RUS
The Atelier
Bianca Mansani
FRA
The King & The Pear
Nastya Voronina
RUS
Athleticus: One rink for two
Nicolas Deveaux
FRA
ATHLETICUS: Synchronised Trampoline
Nicolas Deveaux
FRA
Good Night
Makiko Nanke
JPN

Animated Documentary Short Films

Bloomers
Samantha Moore
GBR
OBON
Andre Hörmann, Anna Samo
DE
Swatted
Ismaël Joffroy Chandoutis
FRA
HOME
Anita Bruvere
GBR
Jesa
Kyungwon Song
USA
Carlotta's Face
Valentin Riedl, Frédéric Schuld
DE
Esperança
Cécile Rousset, Jeanne Paturle, Benjamin Serero
FRA

Contemporary Abstract and Non-narrative Animation

Stunting Cunts
Gina Kamentsky
USA
But One Bird Sang Not
Pierre Hébert
CAN
Foreign Exchange
Corrie Francis Parks
USA
Xylem
Michael Hughes
GBR
Jim Zipper
Alexandre Roy
CAN
Twilight
Richard Reeves
CAN
BIRD MILK
Christopher Strickler
CAN
Edge
Steven Subotnick
USA
Pulsator
Thor Sivertsen
NO
Jumping Moments
Justin Jinsoo Kim
USA
Beyond Noh
Patrick Smith
USA
Catgot
Ho Tsz Wing
HKG

Anča in Wonderland

Cockroach Calisthenics
Sawako Kabuki
USA
Nox Insomnia
Guy Charnaux
BR
Soapboy
Agne Jurkenaite, Anna Smirnova, Daniel O'Connor
GBR
Good Luck Yonpey
Shota Shimizu
JPN
The English Teecher
Andy London
USA
Hot and Tasty
Laura Jayne Hodkin
GBR
Unlikely Love
Molly Mayhew
GBR
Budny and Rossman – Pinball
Waldemar Meln, Syrina Hartje
DE
EXELLENCE
Nathan Sonenfeld
USA
fruit of the days
szilard kardiak, sebastian kardiak
SVK
5 Reasons why I don't trust Jellyfish
Shenja Tatschke
DE
Protocorba
Kirill Khachaturov
RUS
But Jane was deaf
Tobias Rud
CAN
One Left
Sebastian Doringer
AT
Petit Versailles
Adi Lavon
ISR
Sun-Kissed
Ignasi Tarruella
ES
Shredder
Lee Oz, Eliska Oz
USA
LOOR LEIGH WOODS
Theo W. Scott
GBR
How we lost our baby teeth
Mikio Saito
JPN
SHABASHABA
Jessica Wu, Wei Wang
TW
Wild Love
Paul Autric, Quentin Camus, Léa Georges, Maryka Laudet, Zoé Sottiaux, Corentin Yvergniaux
FRA
The Game
Elena Kurkova
RUS
The Elephant
Marta Gabiga
POL
The Coming
Lora D'Addazio, Claudia Espejo Cortés, Mathilde Remy
BEL
Eve & Garak
group of 14 children (Camera-etc)
BEL
Athleticus: Guides
Nicolas Deveaux
FRA
Patrick In Town
Eszter Sandor, Valentína Hučková
GBR
Don't buy milk
Julian Gallese
CR
Dream Cream
Noam Sussman
CAN
You're Fit
Lydia Reid
GBR
Selami Sahin – Nerde Sabah Orda Akşam
Alper Balkış
TR
A Chick's Adventure
Christoph Brehme, Loïc Bruyère
FRA

Anča in Mordor

A Spider Dream
Na Yon Cho
KOR
1000 dreams: Zenti the invincible
Jonathan Phanhsay-Chamson
FRA
Abstract Horror
Franz Milec
CZE
VIOLENT EQUATION
Antonis Doussias
GR
Red
Ao Chen
CN
AENAON
Antonis Doussias
GR
Loop
Yoong Wah Alex Wong
TR
AOKIGAHARA
ilhami tunç gençer
TR
Architecture of the Breath
Kathy Rose
USA
Beings of the 2nd Sphere
Kathy L. Rose
USA
Bizarre Bazaar
Yoong Wah Alex Wong
TR
MOM, I'M NOT EATING
Sandra Araújo
PT
Poop
David Harris
GBR
Holy Krap!
Christina G Hadley
IT
u$aar v3.0
Sandra Araújo
PT
Amis du Lac
Stephen St. Francis Decky
USA
All Possible Futures
Peter Whittenberger
USA
BOOKAKA
KOKOFREAKBEAN (Michael J. Vasquez)
USA

Extremely Short Section of Extremely Short Films

Maggie Dave – I'm Not Ready
Cassie Shao
USA
Takoyaki Story
Sawako Kabuki
JPN
BOOKAKA
KOKOFREAKBEAN (Michael J. Vasquez)
USA
TV
Richard Reeves
CAN
WIND
Dana Sink
USA
Twilight
Richard Reeves
CAN
SHABASHABA
Jessica Wu, Wei Wang
TW
Ce goût en bouche
Laura Passalacqua
FRA
Patrick In Town
Eszter Sandor, Valentína Hučková
GBR
Bez_Muzyki
Mykyta Lyskov
UKR
Pti4ka
Mykyta Lyskov
UKR
No feeding pigeons
Agata Piasecka
POL
Gonna Take Ya!
Theo Collie
BEL
Pandemonium
Vincent Marques, Louise Viriot, Laura Passalacqua, Baptiste Boutin, Marine Corbineau
FRA
Gathering
Victor Maria Lima
HU
Internship report
Gaïa Mendzylewski
FRA
3rd Date
Veronica Solomon
RO
The russian troops
Pablo M. Ballarín
ES
Philogenia
Clothilde Hiron, Julie Paturange, Salomé Rouaud-Nicod
FRA
1536 Units
Jan Rehwinkel
DE
Babou
François Narboux
FRA
Mistake
Petr Mischinger
CZE
Snowball Cat
Lauren Pletinckx
BEL
Fruity
Selwin Vervoort
NL
Sad Weightlifter
Lisa Astretsova
RUS
Health Hazard
Ansh Sirohi
SGP
PRELUDE
Rick Niebe
IT
About death
Nika Zinověva
CZE
PIZZA
Iván Bustingorri
BR
Cock a Doodle Don't
Barry Chapman
IRL
cumcumcumcumcum everybody
Peter Millard
GBR
5 Reasons why I don't trust Jellyfish
Shenja Tatschke
DE
XYU
Donato Sansone
FRA
Unlikely Love
Molly Mayhew
GBR
Jim Zipper
Alexandre Roy
CAN
"this is a fish film"
Michael Bohnenstingl
DE
CHIMERA
Caleb Wood
USA
Bearing
Daniela Hýbnerová
CZE
The Coming
Lora D'Addazio, Claudia Espejo Cortés, Mathilde Remy
BEL
Bedtime Rituals
Molly Mayhew
GBR
Intersectional BioPolitics of Sizzurp
Eli Ayres
USA
Speed
Ben Mitchell
GBR
Gunno
Felipe Di Poi, Simeon Kondev
USA
Master of light
Stefan Vogt
DE
Swarm
Erwin Kopeng
DE
A FOOT RACE
Yefang Zeng
CN
Beware the Wolf!
Julie Rembauville
FRA
Artemis
Bárbara Cerro
ARG
Etude for Cellular Automata no. 2
Guillaume Pelletier-Auger
CAN
Spunkie
Noémie Crozat
FRA
Los Magos
Muti
ZA
The Rivals
Piotr Kaźmierczak
POL
JUICY – SOMETHING IS GONE
Lia Bertels
FRA
Big(foot) Love
Alessia Cecchet, Joshua Dean Tuthill
IT
Morning Star
Katya Snegireva
RUS
I'll call you later
maria scutaru
RO
The Flat
Lev Voloshin
MD
Night, Good Night
Vann Law
AUS
a little bit, just a little bit closer
Davorin Marc
SI
Fest Anča 2020 International Animation Festival is financially supported by the Slovak Audiovisual Fund and LITA Fund. Supported using public funds by the Slovak Arts Council. The festival is held under the auspices of the Mayor of Žilina, Peter Fiabáne.