Fest Anča International Animation Festival 2020's main competitive section has been dominated by loneliness and coping mechanisms, in keeping with this year's The Day After theme. The Anča Award 2020 went to the I'm Going Out for Cigarettes (2018) short film by French director Osman Cerfon. Kaspar Jancis's Cosmonaut was awarded a Special Mention in the same competitive category. The Anča Slovak Award goes to Michaela Mihályi and David Štumpf for their internationally successful SH_T HAPPENS.
Loneliness and hope in main competitive section
The French film I'm Going Out For Cigarettes, the winner of Fest Anča 2020, tells the story of 12-year-old Jonathan who grows up with his mother and sister. He encounters weird strangers hidden in unexpected spots everywhere at home. Could this be connected with his father who abandoned the family long ago?
The Anča Award Jury (Agnieska Kowalewska-Skowron, Ivana Palečková, and Martin Vandas) chose this film for its "deeply compassionate depiction of a child's perspective of complicated relationships, and the original portrayal of a father-son relationship".
Kaspar Jancis's Cosmonaut explores loneliness from the point of view of an ageing former astronaut who cannot relate to his close family, instead remaining trapped in a world of flight protocols and space missions. The jury awarded this film with a Special Mention for its "great animation, open-minded approach to ageing and relationship between parents and kids, as well as a personal heartfelt story".
Themes of awarded student films are very similar: the winner is Danish film Tom Has a Plant by Thinh Nguyen, a short story about Tom who decides to stop leading an unfulfilling life and as a farewell gift gives a plant to his loved ones. The jury appreciated the film's distinctive "original visual and sound design, straightforward story, and important topic of love, tolerance and open-mindedness".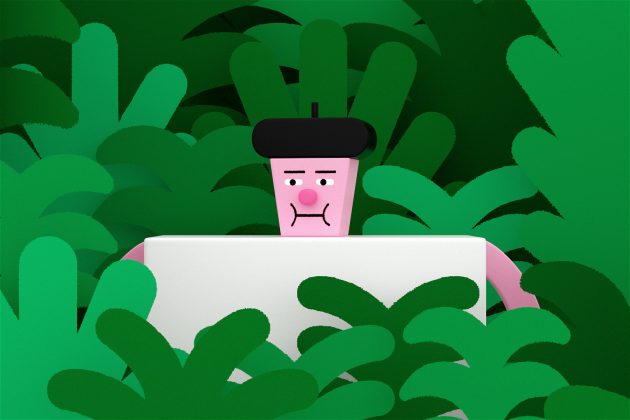 Special Mention in the student film category went to Barbara Rupik for The Little Soul, which narrates the story of a soul leaving its recently drowned body. With its exceptionally visual and lyrical manner, the jury appreciated its expressive animation and Polish spirit. 
While it may seem that the psychological themes in the winning films reflected Fest Anča's The Day After theme, not all were negative. "Even sad stories can give us hope," commented the jury.
Slovak successes
In the Slovak section, the award goes to this year's much anticipated and popular SH_T HAPPENS by David Štumpf and Michaela Mihályi. Their film premiered last year in Venice and also screened at Sundance Festival. They receive the Slovak Anča Award and €1000, sponsored by the Literary Fund.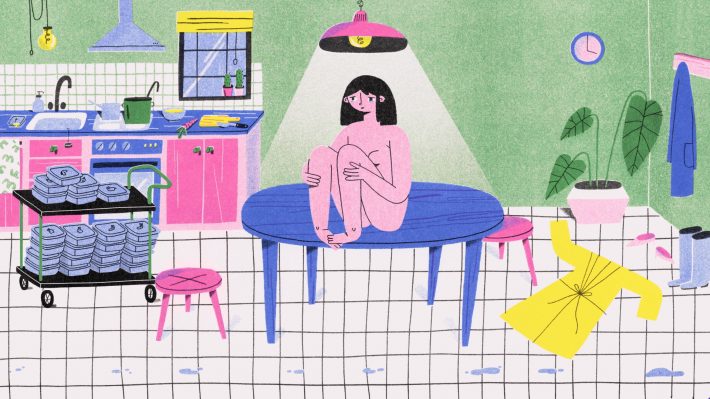 The Slovak Jury (Tomáš Danay, Katarína Kerekesová, and Kamila Dohnalová) liked "its originally structured narrative, complex approach to directing, and seductive visual".
Veronika Kocourková's TV bedtime story Ka-Boom!'s Flood episode was awarded Special Mention in the Slovak films category. 
The Anča Music Video Award goes to the local Czech and Slovak duo of Bety Suchanová and Nora Štrbová for P/\ST: Tíseň. Music Video Jury members (Eliška Děcká, Terezia Šabová, and Kamila Dohnalová) highlighted the "intense, elaborate synergy of sound and image, and precise editing".
The Music Video Special Mention goes to American animator Caleb Wood for Lightning Bolt: Blow to the Head.  
The winner of the Anča Kids' Award was once again selected by a special committee comprising only children, who selected Greek director Fokion Xenos' film Heat Wave.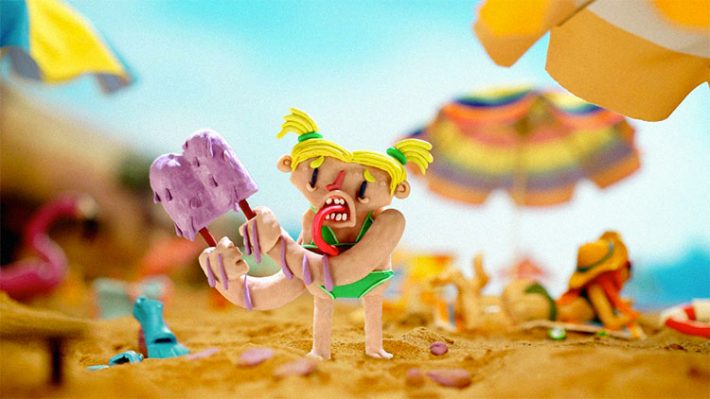 Festival director Ivana Sujová was delighted with the overall standard of selected films and winning films: "It's great that we could present a quality selection of captivating narrative films, as well as some experimental and psychedelic animation. All films in the main competitive section are excellent. Local production is strongly represented in competitive sections and awards, which shows that our local talent can produce internationally renowned content."
"That the Anča Kids' Award went to Heat Wave shows that kids appreciate spontaneity and play, and could evaluate these qualities in the film's technically demanding animation."
Fest Anča International Animation Festival – held at Žilina's New Synagogue and Stanica Žilina-Záriečie cultural hubs – is the only Slovak multimedia festival that focuses on animated films for adult audiences. By presenting contemporary progressive animated films and classic genre gems, this popular annual festival aims to increase awareness of animated film as an art form and showcase animation's diverse range to a wide audience.
Fest Anča International Animation Festival 2020 winners
Anča Award: Osman Cerfon – I'm Going Out for Cigarettes (France, 2018)
Anča Award Special Mention: Kaspar Jancis – Cosmonaut (Estonia, 2019) 
Anča Student Award: Thinh Nguyen – Tom Has a Plant (Denmark, 2019)
Anča Student Award Special Mention: Barbara Rupik – The Little Soul (Poland, 2019)
Anča Music Video Award: Bety Suchanová, Nora Štrbová – P/\ST: Tíseň (Czech Republic, 2020)
Anča Music Video Special Mention: Caleb Wood – Lightning Bolt: Blow to the Head (USA, 2019)
Anča Slovak Award: Michaela Mihályi & David Štumpf – SH_T HAPPENS (Czech Republic, 2019)
Anča Slovak Award Special Mention: Veronika Kocourková – Ka-Boom!: Flood (Slovakia, 2019)
Anča Kid's Award: Fokion Xenos – Heat Wave (Greece, 2019)
Fest Anča 2020 International Animation Festival is financially supported by the Slovak Audiovisual Fund and LITA Fund, and supported using Slovak Arts Council public funds. The festival is held under the auspices of the Minister of Culture, Mrs Natália Milanová, and Mayor of Žilina, Mr Peter Fiabáne.