Post-apocalyptic Fest Anča 2020 also has lots of great accompanying activities – your energy and enthusiasm will be well rewarded! Fest Anča 13th edition's The Day After theme hits the bull's eye of this year's spirit with all its crises, transformations and new opportunities – and the extra activities are a great way to experience the very best on offer. So what's in store? 
The Day After in books, theatre, and the city
Apocalypses, personal and global catastrophes, deaths, births, endings, and beginnings… literary themes that are ubiquitous in films as well as literature. Animators, festival guests, team members, and collaborators will read excerpts from their favourite books that somehow portray The Day After during this thematic reading on Friday at the Artforum.
A Den, a puppet performance by TV Estráda on Saturday at 9 PM at Stanica Žilina-Záriečie, is related to The Day After: A Den is set in a near-future Czech countryside where narrator Jiří plans to visit his uncle Josef at a down-at-heel village near the river Berounka to escape the hectic city lifestyle. But his tranquil experience is soon impacted by imminent environmental catastrophes, platonic love, and his personal crisis. TV Estráda is a Czech media house bursting with fun that uses puppets of all kinds, shapes and characters.
Civil defence bunker is a place to be when a disaster occurs. Visitors of this year's Fest Anča will have an opportunity to see places that are otherwise hidden from the general public, namely three of Žilina's underground bunkers. A guided tour of the bunkers will take place on Friday at 13:45 and is limited to a small number of accredited festival visitors. We will guide them through three underground spaces and present interesting facts from their more or less dark history. Registration will be available at the festival.
Workshops for kids and slow-fashionistas
Fest Anča 2020's workshops will keep festival attendees focused on the post-apocalyptic and environmental mood. One workshop on Saturday before noon at Stanica Žilina-Záriečie will be about upcycling old clothing and guided by Kundy Crew – a radical cross-stitching collective that revitalises tired wardrobes! Visitors can bring own clothes or use second-hand stuff available at the workshop from our partner, Textile House. Upcycled clothing is ecological and original – with a guaranteed feel-good factor about your super-great handiwork! 
Fancy making your own attractive facemask? Led by a nimble-fingered Fest Anča team member, this workshop will give you all the sewing skills and creative input you need for a functional and fab facemask. Come along at Friday at 2 PM to Stanica Žilina-Záriečie.
Kids will love the creative workshop led by Vanda Raýmanová – author of the popular The Tots TV bedtime story. They can make unique film characters that will dance together in a brand-new music video. This workshop will take place on Saturday at 2 PM at Stanica Žilina-Záriečie.
A conference, exhibitions, Pecha Kucha Ancha 
A special edition of Pecha Kucha Ancha will showcase presentations from the world of film, animation and design. Twenty images in less than seven minutes will tell the stories behind the making of animated films and other multimedia projects by artists whose work takes months or years. The creatives' own words will succinctly summarise key points with intriguing insights.
Fest Anča teams up with Sensorium Festival this year to present a mini-conference about arts, design, science, and technology, opening the New Sensibility theme of the new post-digital era. New media studio OUCHHH – with interdisciplinary expertise merging architecture, art, science, technology, new media art, and AI – will be the main guest. And we will introduce Ivana Palečková – an illustrator and creator of photographic publications who has created successful identities for up-and-coming companies and projects – including Fest Anča's 2018 fabulous visage! Ivana will be an Anča Award international competition juror.
Fest Anča 2020 will showcase two unique exhibitions. Firstly, the Domased project by Czech and Slovak artists that was created in April 2020 as a response to the stay-at-home reality. It aims to bring creative and collective relief to social distancers by reflecting on home-working and the new normal. The project unites 120 animators, illustrators, graphic designers, and visual artists.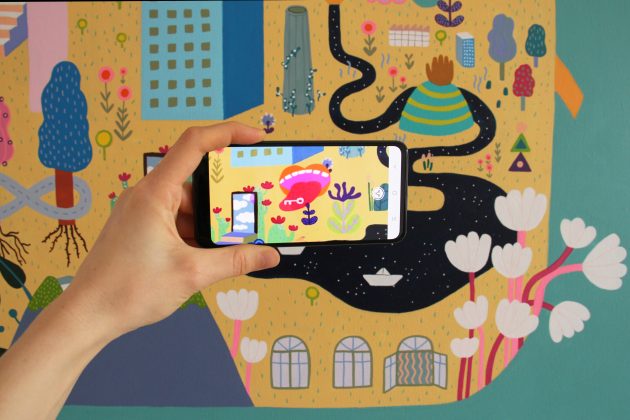 The second exhibition is Dreams of Eden, Kriss Sagan's master's project at Moholy Nagy University of Arts and Design in Budapest. The young animator's augmented reality installation of acrylic paintings presents an intuitive interpretation of the Graham Wallas four stages of creativity. The five artworks showcase Sagan's personal thoughts and energy, playing with questions and answers related to her research study into the creativity of the unconscious mind. This exhibition can also be seen at the SNGG gallery at the New Synagogue from August 18.
Fest Anča 2020's great accompanying programme also includes thrilling concerts and bombastic parties – stay tuned for more info!
Appetite whetted for this year's fantastic Fest Anča? Festival passes are strictly limited and they're selling like hotcakes – so move fast and get yours in pre-sale!
Fest Anča 2020 International Animation Festival is financially supported by the Slovak Audiovisual Fund and LITA Fund, and supported using Slovak Arts Council public funds. The festival is held under the auspices of the Mayor of Žilina, Peter Fiabáne.