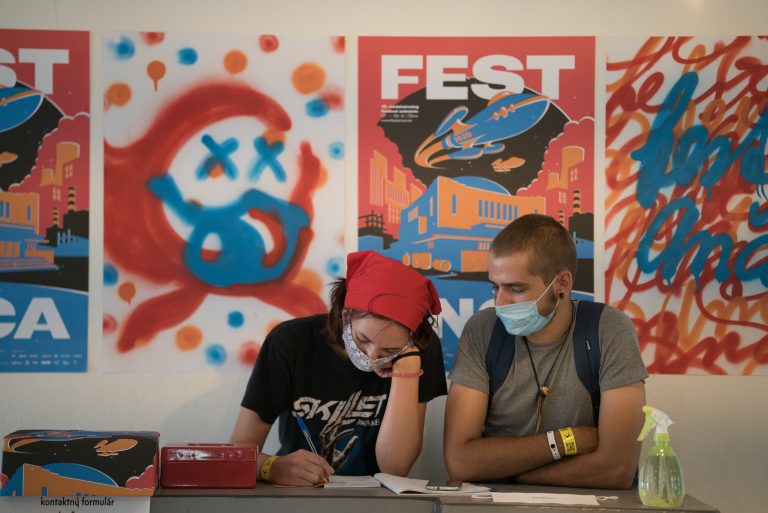 This practical guide will ensure your optimal festival experience and answer key questions about this year's Fest Anča. Also feel free to contact us at help@festanca.sk, through WhatsApp at +421 903 581 874or through our FB page.
FEST ANČA 2021 – ONLINE OR LIVE?
Can I attend Fest Anča in person in Žilina this year?
Yes, but based on the current restrictions on public events, the maximum capacity for each screening room is 30 seats. Visitors can purchase single tickets for individual screenings and concerts at the door directly before they start until capacity has been reached. There is no pre-sale of festival passes or pre-booking of single tickets for individual performances.
We'll welcome anyone who comes to Žilina, but this year's live Fest Anča is more like a cultural trip than a festival experience with lots of friends – which hopefully we can look forward to next year.
Check out Fest Anča's website to make the most of screenings and other events. We will launch the online festival there on 1 July, with the almost complete programme available until 11 July
Why is Fest Anča 2021 mainly online when the pandemic's fading?
While COVID-19's second wave in Slovakia is on the decline, the situation hadn't improved much in the spring, given the festival's organizational cycle. We make a lot of production decisions 4 to 5 months in advance, and since it was not clear at the beginning of spring whether and when the measures would be eased, we were forced to move the festival online for the most part to ensure everyone's safety.
Žilina also had a worse pandemic situation than the Slovak average, which only improved in the second week of June – three weeks before the festival. That's when we announced that in-person attendance would be possible, but limited.
So has Fest Anča gone online?
Yes and no. Most events will happen on-site and will be streamed online too. So it will be easier than ever to watch films online this year, but you can also come along personally to screenings and other events if you like.
Does the online festival deliver value? What are the advantages?
Sure – lots of added value: For the first time, you get the best animation from around the world – selected by the Fest Anča curators – streamed directly to your device. You can watch the whole programme online from 1 July to 11 July. The online ticket will be a great bargain – you get a fantastic programme for even less than a standard year Fest Anča festival pass. We are also adding bonus exclusive interviews to the Focus: Traditions section. And you can decide what to watch and when – you make your own festival schedule (except for live concerts streamed for free on Facebook).
How many people can personally attend the festival?
While the festival's capacity is unlimited, venues of individual screenings and events have a maximum attendance of 30 people. Can't get in because the maximum has been reached? Have a drink at the bar with friends at Nová Synagóga (New Synagogue) and Stanica Žilina-Záriečie (Station) cultural centre which are open as usual.
How many people can watch Fest Anča ONLINE?
Well, of course, that's unlimited. Send the streaming link to your friends, mum, grandma, favourite bus driver…
HOW WILL FEST ANČA BE ONLINE?
Where, when, and how can I stream Fest Anča ONLINE and when can I see the whole programme?
Fest Anča 2021 online will be streamed via Festhome.com, which you can also access here: www.festanca.sk.
To watch films, first create an account at Festhome.com and then buy a ticket for the whole festival or individual screenings. If you choose the first option, the system will remember you and you can then choose whichever screening you'd like to watch. 
You can stream almost all film screenings of Fest Anča 2021 and supporting events with additional Focus discussions from 1 July to 11 July. Other supporting events, such as concerts and discussions, will be available on the festival's Facebook page. DJ sets will be streamed on Twitch. By agreement with the artists, the concerts will only be streamed live. The rest of the programme will be archived.
We will stream supporting events directly from Žilina's popular locations such as the Rondel and this year's exclusive location – the Sphere in the New Synagogue.
Will all LIVE events also be available ONLINE?
Unfortunately some events have technical and licensing constraints. These events will only be available for audiences in Žilina: the screenings of Slovak TV bedtime stories for children and adults, and the thematic reading of Pavol Dobšinský's fairy tales.
In what languages will the screenings and discussions be held?
Most screenings will have Slovak and English subtitles, and some films are dialogue-free. Discussions will be held in Slovak or Czech without subtitles.
Will online discussions invite questions?
Yes, you can join live festival discussions (except pre-recorded focus section interviews) and ask questions via Sli.do.
Can I watch the festival abroad?
Yes, almost the whole festival is available to watch abroad. Out of 325 films, only 61 are not available for international streaming.
HOW WILL FEST ANČA LIVE BE?
Will anything be missing in Žilina that I'd normally enjoy?
Because this year the festival is rather minimalistic, many regular events have been shelved – such as big screenings and live events for large audiences. This might impact the festival's atmosphere a bit this year too. Also missing for safety reasons are workshops and similar close contact activities. Although the bars at Stanica Cultural Centre and New Synagogue will be open as usual, they won't be serving food – so you can enjoy Žilina's wide selection of great eating options instead.
Samčo, brat dážďoviek will be at the festival, so it's almost business as usual 😊.
Any specifics about Fest Anča LIVE?
Licensing constraints mean that only audiences in Žilina can see screenings of selected episodes of Večerníček across several segments. And nightly DJ sets will only be on site. Another special place will be the Sphere – a wooden construction at New Synagogue by sculptor Juraj Gábor that will host some programme parts.
Will Stanica have a camp site?
No. The camp site under the Rondel will not be open this year, nor other accommodation, showers, food points, or other previous amenities. 
What COVID-19 measures will I see?
All venues and screenings must be entered with a mask on – and kept on for the duration of a screening. Hand sanitiser is freely available at festival areas. Inform an organizer or volunteer if a sanitiser is missing or empty. Respect your surroundings and obey all Public Health Department regulations for everyone's benefit. If you feel unwell, please stay at home.
Where is Fest Anča LIVE this year?
The main festival venues are the New Synagogue in Žilina on J. M. Hurbana 11 Street and the Stanica Žilina-Záriečie cultural centre on Závodská 3 Street in Žilina.
AND TICKETS?
Where can I buy a ticket and what kinds of tickets are available for ONLINE and LIVE?
You can either buy a ticket for Fest Anča ONLINE or Fest Anča LIVE.
The ONLINE tickets go on pre-sale in mid-June at three price levels: a ticket for complete online programme streaming; a single ticket for one screening (each person can buy unlimited tickets); and a ticket for the children's programme. Buy tickets at tv.festhome.com or via our website. Check our social media for the pre-sale launch.
Tickets for Fest Anča LIVE will not be available for pre-sale. Only single admission tickets for individual screenings for EUR 3 are available for purchase on-site. Tickets cannot be pre-booked for shows or reserved for a specific event.
Where do I buy tickets at the festival?
Tickets will be sold 15 minutes before each screening at screening rooms and according to the schedule.
I have bought a Limited Edition ticket for Fest Anča 2021. What can I do with it?
You have three options: use for this year's online version of the festival (as an online pass for two people), keep for next year's festival (as a live festival pass for two people), or get a refund. Want to use your Limited Edition ticket as an online pass for Fest Anča 2021 or use it next year? Then email akreditacie@festanca.sk. Want your money back? Please contact info@inviton.eu (Subject: FEST ANČA 2021).
How can I buy a ticket for Fest Anča ONLINE?
Go to http://online.festanca.sk and click on the user icon in the top right corner – to register, enter your email address, full name, date of birth, and set a password. A successful registration should keep you automatically logged in. If you move a bit downwards, you can see ticket types – full festival pass or single tickets  for individual screenings. You can pay by debit/credit card or PayPal – you'll get proof of successful payment by email.
I have bought a ticket for Fest Anča ONLINE. How can I redeem/use it?
If you buy a ticket for the whole festival, you can watch any screenings either on our website or via Festhome. The browser will remember you for one-time log in. If you are going to buy single tickets for individual screenings, you will need to enter your payment details before accessing the media player each time.  
Are there any restrictions on watching films online?
You can watch each screening whenever you want between 1–11 July. But after you start watching a film, it will only be available for 48 hours. After that time or after finishing the whole section, you will not be allowed to watch the same section again. The only exception is children's tickets that allow multiple viewings of children's sections.
I have received a free voucher (e.g. as a competition prize) to access Fest Anča ONLINE. How can I redeem it?
Go to

http://online.festanca.sk

and click on the user icon in the top right corner to register. 

After registering, you should be logged in automatically. If not, log into your new account.

Based on voucher type (type of discount) – discount for festival pass or single screening – click on "Buy session/Festival pass" button. 

A window will pop up with the option to either buy a ticket or enter a voucher code.

Enter the code you have received into the "Voucher Code" box. Depending on the discount, you will see the ticket price (EUR 0, EUR 10, etc.).  

Click on the "Continue" button.

You will then have access to film content according to the discount.
SOMETHING'S NOT QUITE RIGHT…
What if I cannot buy a ticket, redeem a ticket, or access films despite having bought a ticket?
Contact us at help@festanca.sk or through WhatsApp at +421 903 581 874. We will try to reply instantly. The info line is available from the launch of online pre-sale, and will be open every day from 9 AM to 9 PM from 1 to 11 July.