The 15th Fest Anča International Animation Festival has announced its selection of animated short films! More than 1,250 films from 68 countries from all over the world have been submitted to the festival this year. The selection features films from both familiar and fresh creators. It is an overview of the best of world and domestic animation, encompassing varied animation techniques, authors' unique styles and diverse themes. 
Only one sixth of films submitted to Fest Anča 2022 make it through to the festival's official selection. "We received many high-quality animated short films. It was difficult to choose, and unfortunately many good films missed out," stated programme dramaturge Jakub Spevák and festival director Ivana Sujová in unanimously evaluating the quality of submitted films.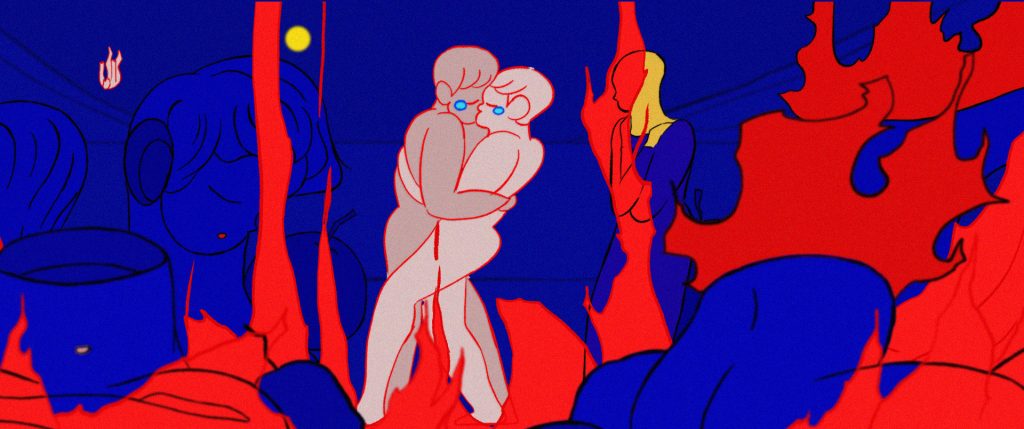 Both familiar and fresh creators
In the competition and non-competition sections, animation fans will recognize some names from previous editions of Fest Anča. These include former guests and award winners (Peter Millard, Koji Yamamura, Sarina Nihei, Steven Subotnick), as well as Chilean directors (Cristóbal León and Joaquín Cociña) who were jury members last year and this time will present their film The Bones in the World Panorama. Audiences can look forward to animated videos by Raman Djafari, and abstract animation by Hungarian animator Réka Bucsi.  
The competition section will feature the porcelain animation Beast, which was also Oscar-nominated this year. Inspired by true events, the film depicts the story of a secret police agent during the military dictatorship. The pre-selection committee was intrigued by the film with the copious title In My Chest of Fire There Is Still Place to Temple Your Dagger: A Love Story, which is a distinctive retelling of the relationship between Ash and Pikachu. The selection also includes Imaginary Landscapes by renowned Ukrainian animator Mykyta Lyskov.
A third of the main competition comprises student films. For example, Wet depicts the recesses of a sauna, guiding viewers through a labyrinth of sensuality, bodies and steam. Student films are also represented in the Slovak competition. These include r a u u by Zlata Golecová, a recent graduate of the Academy of Performing Arts, who used various animation techniques to portray a story about a mysterious character.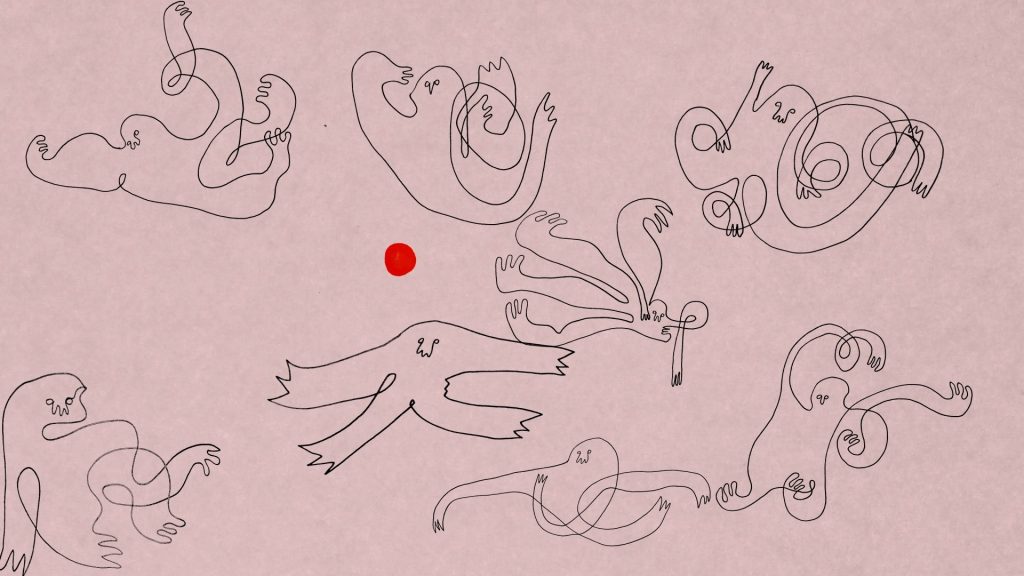 Slovaks on screen
Slovak films are also represented in the international selection. Once There Was a Sea…. by Joanna Kożuch (which has already won the Student Jury Prize at the Clermont-Ferrand Festival) has been selected for the main and Slovak competition. Love, Dad, an animated Slovak co-production documentary about the relationship between a daughter and her father by Diana Cam Van Nguyen is part of the main competition as well. Another Slovak co-production, Suzie in the Garden (which premiered at the prestigious Berlinale 2022), will be presented in the World Panorama section.
As for the Slovak section, the pre-selection committee commented on its quality: "This year we are presenting a very balanced and diverse competition section. We're interested to see which film appeals most to our jury."
Video killed the radio star
Slovakia is also represented in the music video competition with animators Milan Stanco (Charms Kids: Les Miserables) and Marián Vredík (Queer Jane: Gerard Love). "It's great that the music video competition is consistently high-quality –  different musical styles and imaginative animations," says dramaturg Jakub Spevák. The music video section will also feature animation by Sarina Nihei, the winner of last year's Anča Award for Best Animation.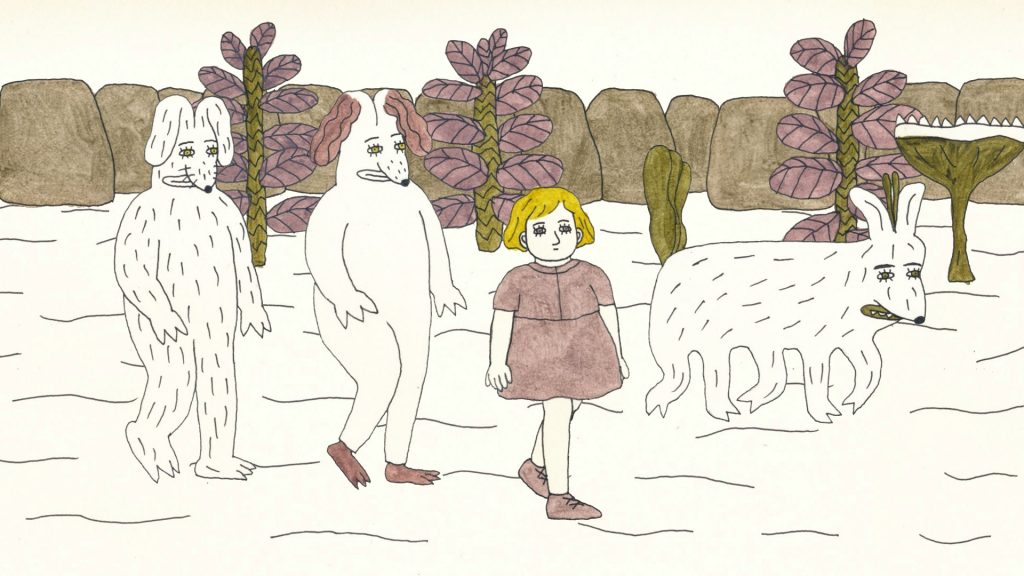 Kids love films too!
At Fest Anča children and their parents can look forward to one competition and two non-competition sections of the best films for children. This international section is full of the fun, education, creative approaches, imaginative artistic stylizations, and original techniques that only animated film can offer children. 
"We are happy to show films that have an equal dialogue with children and stimulate their imagination," says Ivana Sujová. For example, the competition section's Elevator Alone is the story of four characters who behave differently in an elevator when alone and together. This humorous puppet animation touches on the individual-group relationship in a playful and child-friendly way. In the non-competition children's section, Slovak animator Filip Diviak's Sounds Between the Crowns has also been selected.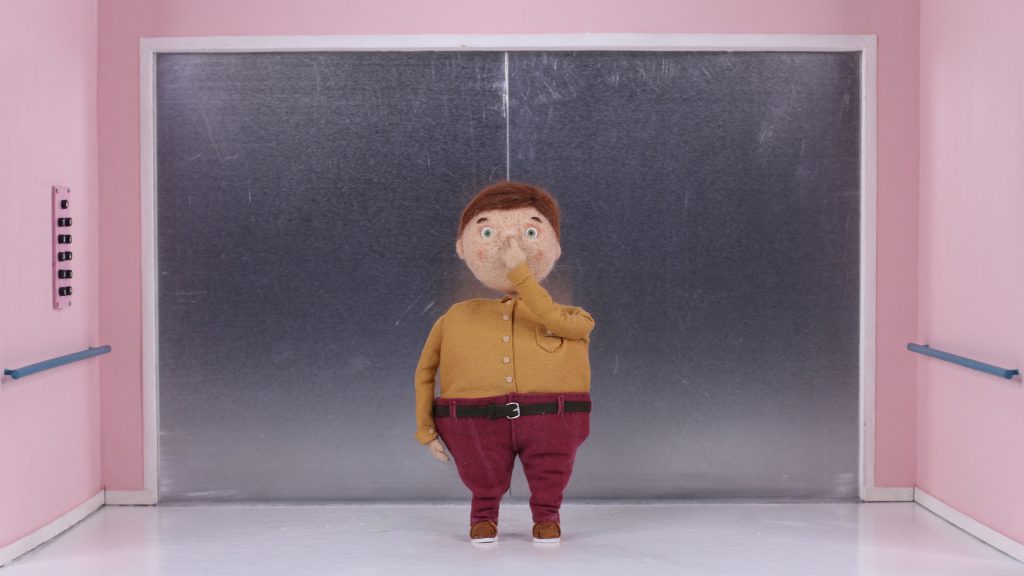 In conclusion
As regular visitors know, Fest Anča also includes a number of specialised sections such as Anča in Mordor and Anča in Wonderland. And this year the festival will again feature a Short Animated Documentary section, as well as an extremely short film section dedicated to extremely short films.
Every year the festival presents films premiering in Slovakia. "So viewers have the unique opportunity to watch most films for the very first time," concludes Ivana Sujová.
The festival annually includes an international competition of animated short films and music videos, as well as thematic and special focused film sections. Over its four days, Fest Anča offers lectures, exhibitions, workshops, screenings for children, and many accompanying events.
Competition sections
*s = student film
FILMS COMPETING FOR THE ANČA AWARD FOR BEST ANIMATED SHORT AND BEST STUDENT ANIMATED SHORT

Swallow the Universe
Nieto
France
In My Chest of Fire There Is Still Place to Temple Your Dagger: A Love Story
Pablo Ballarín
Spain
Hotel Kalura
Sophie Koko Gate
United Kingdom
Goodbye Jérôme! (s)
Gabrielle Selnet, Adam Sillard, Chloé Farr
France
Anxious Body
Yoriko Mizushiri
France
Sierra
Sander Joon
Estonia
The Fourth Wall (s)
Mahboobeh Kalaee
Islamic Republic of Iran
Thing
Malte Stein
Germany
Crumbs of Life
Katarzyna Miechowicz
Poland
Our 2
Yungsung Song
Japan
Hysteresis
Robert Seidel
Germany
Vampire (s)
Zhong Xian
United Kingdom
Tales of the Salt Water (s)
Tamerlan Bekmurzayev, Antoine Carré, Rodrigo Goulão de Sousa, Alexandra Petit, Martin Robic
France
Bird in the Peninsula
Atsushi Wada
France
Love, Dad (s)
Diana Cam Van Nguyen
Czech Republic
Eyes and Horns (s)
Chaerin Im
Republic of Korea
Granny's Sexual Life
Urška Djukić, Émilie Pigeard
Slovenia
Terra Incognita
Pernille Kjaer, Adrian Dexter
France
Deep Water
Anna Dudko
Ukraine
The Awakening of the Insects
Stéphanie Lansaque, François Leroy
France
Imaginary Landscapes
Mykyta Lyskov
Ukraine
Two Sisters
Anna Budanova
France
Hierophany (s)
Maria Nitek
Poland
Once There Was a Sea…
Joanna Kożuch
Slovakia
Wet (s)
Marianne Bergeonneau, Mélina Mandon, Lauriane Montpert, Cloé Peyrebrune, Elvira Taussac
France
Steakhouse
Špela Čadež
Slovenia
Impossible Figures and Other Stories I
Marta Pajek
Poland
Mom, What's Up with the Dog? (s)
Lola Lefevre
France
Blindness (s)
Yu-seon Park
Republic of Korea
Beast
Hugo Covarrubias
Chile

MUSIC VIDEOS COMPETING FOR THE ANČA AWARD FOR BEST ANIMATED MUSIC VIDEO

Elton John, Dua Lipa: Cold Heart (PNAU Remix)
Raman Djafari
Germany
Photay: Villain
Sarina Nihei
United States
Vooid: Rabbit Hole
He Lo
Taiwan
Squid: Pamphlets
Raman Djafari
Germany
Coucou Tchoutchou
Charlie Mars
France
Yello: Out of Sight
Dirk Koy
Switzerland
Las monjas en celo: Los colores del niño dios
Santiago Pérez Rodríguez
Colombia
Charms Kids: Les Miserables
Milan Stanco
Slovakia
Queer Jane: Gerard Love
Marián Vredík
Slovakia
Zen Bamboo: Xoxoxo
Henry J. McClellan, Mathieu Larone
Canada
Greensky Bluegrass: Stress Dreams
Grant Kolton
United States
Irvin Venyš & Epoque Quartet: Cimpoiasca
Barbora Halířová
Czech Republic
Zouj: Delete After Death
Laura Jayne Hodkin
United Kingdom
Brother Sun Sister Moon: A Whale Song
Sacha Beeley
Japan
Maggie Dave: Old You
Cassie Shao
United States
JNKYRD feat. Ohhyuk: Varsity
Gyuri Cloe Lee
Republic of Korea
Sun Dance
Miguel Jara, Celestial Brizuela
Mexico
Luis Ake: Umweg
Julian Gallese
Costa Rica
The Dream
Julie Černá, Petra Mikolášová, Anastázie Rainsichová, Ondřej Salava
Czech Republic
Trohi: Аggressive Schtreiss/Sims 5 idm
Ivelina Ivanova
Bulgaria
Mango Lafruta: Alpapuyo
Fiona Lena Brown, Germán Basso
Germany
Dos Santos: A Shot in the Dark
Miguel Jara, Celestial Brizuela
United States
KCIDY: With the Wind
Géraldine Charpentier
Belgium

FILMS COMPETING FOR THE ANČA AWARD FOR BEST ANIMATED SHORT FOR CHILDREN

Bemol
Lacroix Oana
Switzerland
Mishou
Milen Vitanov
Germany
Franzy's Soup-Kitchen
Ana Chubinidze
France
Cat and Bird
Franka Sachse
Germany
Oddland
An Vrombaut
Belgium
Elevator Alone
Anastasia Papadopoulou
Greece
The Ducks
Ángela Arregui
Spain
Damn It!
Elena Walf
Germany
Lunar Love & Ever
Gabriel Gabriel Garble
Sweden

FILMS COMPETING FOR THE ANČA AWARD FOR BEST SLOVAK ANIMATED SHORT

Even Stone Flows
Ové Pictures (Veronika Obertová, Michaela Čopíková)
Slovakia
Once There Was a Sea…
Joanna Kożuch
Slovakia
Introspective
Ivana Laila Drobná
Slovakia
I am Sorry, Whale
Veronika Zúbek Kocourková
Slovakia
r a u u
Zlata Golecová
Slovakia
That's That
Szilard Kardiak
Slovakia
Sounds Between the Crowns
Filip Diviak
Czech Republic
Sisters
Andrea Szelesová
Czech Republic

Non-competition sections

WORLD PANORAMA

The Frolic
Jhao Yi-Han
Taiwan
Trona Pinnacles
Mathilde Parquet
France
Vadim on a Walk
Sasha Svirsky
Russian Federation
Sugar Show
Liana Makaryan
Russian Federation
Salvia at Nine
Jang Nari
Republic of Korea
Tender Parts
Steven Subotnick
United States
Fury
Julia Siuda
Poland
The Bones
Cristóbal León, Joaquín Cociña
Chile
Polar Bear Bears Boredom
Koji Yamamura
Japan
C
Marion Täschler
Switzerland
Sauna
Anna Lena Spring, Lara Perren
Switzerland
A Bite of Bone
Honami Yano
Japan
The Dog's Leash
Nicolas Piret
Belgium
The Dragon Head Tree
Jiaqi Wang
United Kingdom
Regular
Nata Metlukh
United States
Pests
Juliette Laboria
France
Colony
Pilar Garcia-Fernandezsesma
United States
Doom Cruise
Hannah Stragholz, Simon Steinhorst
Germany
Compositions for Understanding Relationships
David Delafuente
United States
Golden Margarite
Keren Sofi Karasik
Israel
In the Upper Room
Alexander Gratzer
Hungary
Girl in the Water
Shi-Rou Huang
Taiwan
A Story for 2 Trumpets
Amandine Meyer
France
Suzie in the Garden
Lucie Sunková
Czech Republic
Drawn Undrew Draw
Angel Wu
Taiwan
Glazing
Lilli Carré
United States
Sometimes I Don't Know Where the Sun
Samantha Aquilino
Switzerland
Good Placement of Seeds
Xi Chen
China
We Were a Sterile Bomb
Dotan Moreno
Israel
Mud Chronicles
Vuk Palibrk
Serbia
Menagerie
Jack Gray
United States
Congregation
Nick Simpson
Australia
Miracasas
Raphaëlle Stolz
Switzerland
Night of the Living Dread
Ida Melum
United Kingdom
Chasse Galerite
Brian Hawkins
United States
My Father's Damn Camera!
Miloš Tomić
Slovenia
Elephant in Castle
Lee Yuk Ki Florence
Hong Kong

SLOVAK PANORAMA

The Knife
Timotej Lukovič
Slovakia
Friday
Szilard Kardiak
Slovakia
Never
Lenka Adamcová
Slovakia
Tomato Hairytage
Laura Kočanová
Slovakia
Fairy Tales with No Happy Endings
This is Locco agency
Slovakia
Miro Jilo/My Heart
Dávid Popovič
Slovakia
Mathias
Imrich Kútik
Slovakia
Bodies of Water
Niko Mlynarčík
Czech Republic
Charms Kids: Les Miserables
Milan Stanco
Slovakia
Queer Jane: Gerard Love
Marián Vredík
Slovakia
Life at the Castle
Lucia Troppová
Slovakia

WORLD PANORAMA FOR KIDS

Don't Blow It Up!
Alžbeta Mačáková Mišejková
Czech Republic
Our Piggy
Jaromír Plachý
Czech Republic
Itchy the Camel: Tennis
Anders Beer, PH Dallaire
Canada
Itchy the Camel: Basketball
Anders Beer, PH Dallaire
Canada
URSA – The Song of the Northern Lights
Natalia Malykhina
Norway
Bellysaurus
Philip Watts
Australia
Ink
Joost van den Bosch, Erik Verkerk
Netherlands
Sounds Between the Crowns
Filip Diviak
Czech Republic
Kayak
Solène Bosseboeuf, Flore Dechorgnat, Tiphaine Klein, Auguste Lefort, Antoine Rossi
France
Step by Step
Fanny Paoli, Anabelle David, Emma Gach, Claire Robert, Julie Valentin, Thēodore Janvier
France
Little Roommate
Simon Ott, Fabian Schaeublin, Hannes Oehen
Switzerland
Red Junior and the Wolf
Winnie Wu
United States
A Poor Blue-Footed Booby Goes to Tokyo
Haruna Ueno, Tomoko Taiga
Japan
Penguin and Whale
Ezequiel Torres, Pablo Roldán
Argentina
Fox for Edgar
Pauline Kortmann
Germany
Tourist Trap
Vera van Wolferen
Netherlands
Odd Socks
Charlotte Heyman
Sweden

SHORT ANIMATED DOCUMENTARY

I'm Late
Sawako Kabuki
France
All At Sea
Kasia Nalewajka
Poland
Unsung Women – Ida Pfeiffer
Julie Gavras, Mathieu Decarli
France
At Spiral's End
Eliška Kerbachová
Czech Republic
The Train Driver
Christian Wittmoser, Zuniel Kim
Germany
Holy Holocaust
Osi Wald, Noa Berman-Herzberg
Israel
Lada, Ivan's Sister
Olesya Shchukina
Russian Federation
It's All the Salt's Fault
María Cristina Pérez
Colombia

CONTEMPORARY ABSTRACT AND NON-NARRATIVE ANIMATION

Animal Locomotion
Asa Rikin, Noga Sirota
Israel
Clinamen
Simon Gerbaud
Mexico
Sed Saepe Cadendo
Gina Kamentsky
United States
Intermission
Réka Bucsi
Hungary
Rites of Spring
Yiorgos Tsangaris
Cyprus
Poum Poum!
Damien Tran
France
Mountain Blues
Lucie Levrangi
United Kingdom
Enjoying a Nice Life
Rainbow Timothy
United States
Jung & Restless
Joanna Priestley
United States
Holes
Birgitta Hosea
United Kingdom

ANČA IN WONDERLAND

Sexy Sushi
Calleen Koh Yee Lin
Singapore
Keep Left
Maya Remenyi
United Kingdom
Guff Maturity
Peter Millard
United Kingdom
The Dogs
Mathi Mathos, Charlie Mars
France
To Kill the Birds & the Bees
Calleen Koh Yee Lin
Singapore
Sweet Nothing
Joana Fischer, Marie Kenov
Switzerland
Toothless
Andrea Guizar
Poland
Normal
Julie Caty
France
The Invention of Less
Noah Erni
Switzerland
Eating in the Dark
Inari Sirola
United Kingdom
The Clearing
Daniel Hope
United Kingdom
Klezgermiia
Simeon Kondev, Felipe Di Poi-Tamargo
United States
Krasue
Ryo Hirano
Japan
The Eden
Lucia Alessandri
France
How to Survive the Heatwave and Stay Human

Ronni Shalev, Alon Sharabi

Israel
Hot Singles in Your Area
Nicolás Petelski
Spain
Divination Dave
Georgia Madden
United Kingdom
The Real Spaghetti Western
Alex Maximov
Belarus
Mondo Domino
Suki
France
Alternate Mesozoic
Swann Boby, Lucie Laudrin, Marion Métivier, Léna Miguet, Sixtine Sanrame, Marie Schaeffer
France

ANČA IN MORDOR

Until the Next Day
Nikolas Kerameus
Greece
Soap Is an Illusion (Dirt: Part One)
David Finkelstein
United States
Xolotl
Ilhami Tunç Gençer
Turkey
InfraVisual VMware 4.0 (featuring NanoBots)
Jorge Sellés
Spain
Daddy v1
Toms Krauklis
Latvia
Live vs Death
Zden Hlinka
Slovakia
Shine
Faiyaz Jafri
United States
Audenie
Taokan Xu
Germany

EXTREMELY SHORT SECTION OF EXTREMELY SHORT FILMS

Password to the * * * * *
Adél Szegedi
United Kingdom
Sisiphescu
Maria Simina Dimancea
Romania
Bagatelle
László Csáki
Hungary
Monster Encounters
James Smith
Germany
Het Regent
Daniel Wesseik
Netherlands
The Illusion
Tianqi Wu
United Kingdom
1 Km arround Larrabetzu
Bego Vicario
Spain
Pebble
Jana Pujinová
Czech Republic
Friend
Pika Terpin
Slovenia
Desire for Tranquility
Nikolaus Jantsch
Austria
Flow
Kayla Parker, Stuart Moore
United Kingdom
I Come From
Kate Jessop
United Kingdom
Kebab Night
Sophya Kebets
United Kingdom
The Most Beautiful in the Meadow
Giulia Falciani
Germany
The Girl Who Built a Rocket
Neeraja Raj
United Kingdom
Lunch Break
Reinout Jan Swinnen, Bram Van Rompaey
Belgium
Auto-Cremate
Nicolai Wølner Voss
Norway
Smoking Is a Bad Habit
Ondřej Brýna, Silvie Radová, Antonín Chod
Czech Republic
Flies
Anabela Costa
Portugal
Hypno Tidoo
Arianna Gheller, Matteo Burani
Italy
Perfect Circle
Maria Tomazou
United Kingdom
Little Singer
Hao Yu
Germany
End Credits
Lucia Gazdiková
Slovakia
Life for School
Nataša Strelová
Slovakia
Les Unités-Mixtes
Sandrine Deumier
France
Skanderbar
Calin Gherghevici
Romania
The Lazy Bear
John Osebold
United States
Dino Bone
Jordan Powers, Sam Durkin
United States
The 0.01%
Sophia Bayat
United States
Itchy The Camel: Rakes
Anders Beer, PH Dallaire
Canada
Nomino Sukune
Ryotaro Miyajima
Japan
Fire
Maro Margulis
Argentina
Porsche – The Legend of Pedro Rodríguez
Mariano Fernández Russo
Argentina
Carrot Feeder
Xi Chen
China
Fest Anča International Animation Festival 2022 is financially supported by the Slovak Audiovisual Fund and LITA Fund. The Student Forum Fest Anča benefits from a grant from Iceland, Liechtenstein and Norway through the EEA and Norway Grants.