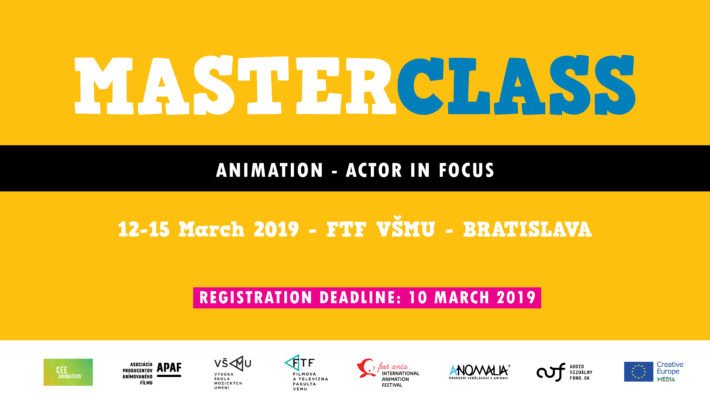 With the CEEA MASTERCLASS the Slovak Association of Producers of Animated Film (APAF) presents an exciting opportunity to receive training and meet internationally-renowned animated film professionals – for the third consecutive year!
Presented in co-operation with CEE Animation, the Academy of Performing Arts in Bratislava and Fest Anča International Animation Festival, the masterclass continues to create a bridge between studying and the professional world – helping students and young professionals navigate their careers.
In 2017 production pipeline experts attended the masterclass, and last year we covered artistic aspects of script development. This year will see a balance between artistic and practical – because good animation film-making also needs confident production managers, creative directors and skilled animators.
At this year's "Animation: Actor in focus" we're looking forward to welcoming Ed Hooks in Bratislava, who's known for unveiling the mysteries of acting to animators around the globe. Both novice and experienced animators will benefit from discovering how to apply acting techniques to create believable characters in their work.
Both actors and animated characters need a well-organized production to keep a project on track and budget. This is especially true of complicated co-productions, such as last year's winner of the European Film Academy award for best animation: Another day of Life that was steered by Urszula Łuczak. Aspiring production managers and producers will benefit from this approach.
We also wanted to bring a taste of the excellent Anomalia training programme run by our Czech colleagues Marek and David Toušek. Every year some of the best senior animators and artists from famous studios (such as Pixar and Dreamworks) come to Central Europe to share their experience at Anomalia – creating a huge opportunity for aspiring young 3D animators in the CEE. David Toušek and Anomalia trainer – 3D animation expert Keith Lango – will reveal the full creative and artistic potential of 3D animation software. Ten students and five professionals will also attend a workshop – led by Keith and David and assisted by Slovak 3D artist Marian Villaris – to put theory into practice.
The CEEA MASTERCLASS 2019 is the place to meet, greet, and learn for production managers, directors, animators and 3D specialists.
PROGRAMME
(The masterclass will be conducted in English, without translation)
Tuesday, 12 March, Public Lectures
Venue: Kino Klap, FTF VŠMU
10:00 – 13:00 Urszula Łuczak: Case Study of Another Day of Life
13:00 – 14:30 Lunch Break
14:30 – 17:30 Urszula Łuczak: Case Study of Another Day of Life
Wednesday, 13 March, Public Lectures
Venue: Kino Klap, FTF VŠMU

10:00 – 13:00 Ed Hooks: Acting for Animators
13:00 – 14:30 Lunch Break
14:30 – 17:30 Ed Hooks: Acting for Animators
Thursday, 14 March, Public Lectures
Venue: Kino Klap, FTF VŠMU

10:00 – 13:00 David Toušek: Fundamentals of Organization in 3D Animation & Introducing ANOMALIA Program
13:00 – 14:30 Lunch Break
14:30 – 17:30 Keith Lango: Introduction of various animation processes & Portfolio Consultations
Friday, 15 March, For Selected only
Venue: Room 109, 110, FTF VŠMU
10:00 – 17:30 David Toušek and Keith Lango: WORKSHOP / How to animate in 3D
ADMISSION
1 day = 10 €
3 days = 20 €
Workshop with Keith Lango & David Toušek = 30 € (limited capacity)
Students and Teachers (VŠMU), APAF members = free admission
All participants need to register >>HERE<<